About Google Chromecast Ultra
Learn how to stream on your TV.

Stream from your iPhone®, iPad®, Android device or laptop to the TV.

Start casting.

Simply tap the Cast button in a Cast-enabled app and choose a video to play on your TV.

Stream from your phone.

Enjoy your favorite apps and entertainment on the big screen.

Stream websites from your laptop.

Enjoy photos, videos, music and anything else from your favorite websites on the big screen.
eBay has provided more information about this product above and is not affiliated with or endorsed by Google.
Price Trends
Google Chromecast Ultra - Price New and Used
New Price*
from $47 to $52
Used Price*
from $36 to $43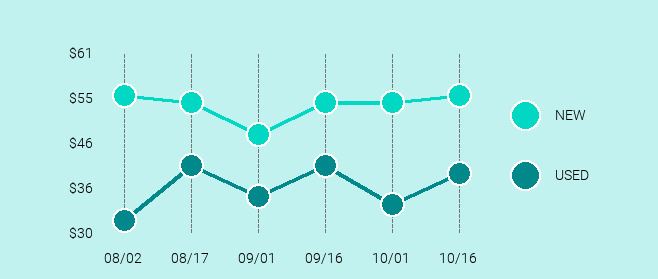 *The average sold price is calculated based on "Buy It Now" items sold within the 90 day period described above (excluding shipping and handling). Each interval represents a 15 day period. There is no guarantee that items will always be listed at a price within the provided range.
Compare Similar Models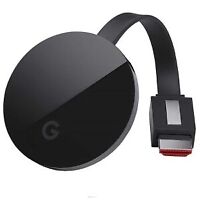 Google Ultra
Sound Channels
Device-dependent
Internal Memory
Unspecified
Wireless Connectivity
802.11ac (2.4GHz/5GHz)
Ports
HDMI, Micro-USB, Ethernet
Google Chromecast 2nd Generation

Sound Channels

Device-dependent

Wireless Connectivity

802.11ac (2.4GHz/5GHz)

Ports

HDMI, Micro-USB, Ethernet

Google Chromecast 3rd Generation

Sound Channels

Device-dependent

Internal Memory

Unspecified

Wireless Connectivity

802.11ac (2.4GHz/5GHz)

Ports

HDMI, Micro-USB, Ethernet
Top 7 High ratings
Top 1 Low rating
Works, but for channels I like using other devices better. OK for whole screen mirroring.

The refurbished item arrived with the original owner's network info still present. It was NOT reset to factory default like it should have been. After looking up how to reset it quite a few updates were installed. Everything you watch needs to have an app installed on your phone/tablet, so you better have room for it (Netflix, Pluto, . . . ). Streaming a mirrored screen needs to have a really good WiFi connection in order to work smoothly.

Verified purchase: Yes

One of the Best gadgets for home

The chromecast ultra is the Best adition to my Living ropa its, super easy to use, super fase, and it s the Best If you love your Phone and Tv. Everything or almost everything display. The perfect ítem for improve your tv without buying another one, if only cost a little les will be great because even used it is almost 60 or 70. But Totally worth it

Verified purchase: Yes

Good product; wish I could sideload apps onto it.

The fact that it can stream 4K content makes TV and movies so much more fun to watch! It is small, but very effective. I may just have to buy a new 4K TV to keep it company :-)

Verified purchase: Yes

Worth it

Had some issues setting it up where my desktop computer could not find the device to cast to, but after fixing setup, it works great!

Verified purchase: Yes

Excellent product

everything was as advertised, it was easy to set up, just plug it in, worked right away and has worked since.

Verified purchase: Yes

Works well with google mini

Picture quality as expected, streaming irregular with sound dropping out. Normal for this sortoff device

Verified purchase: Yes

You get for your money' worth. Great Product.

Quite easy to set up and was able to connect and use Netflix.

Verified purchase: Yes